22 August, 2015 | By Vladan Petkovic
'The High Sun' wins prize at Sarajevo Film Festival partner awards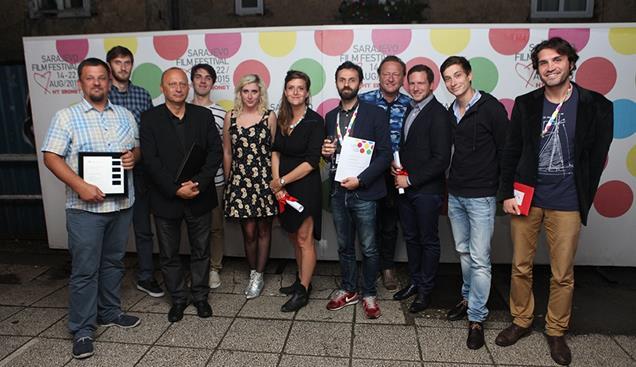 Docu Rough Cut Boutique prizes also revealed.
The 21st Sarajevo Film Festival (Aug 14-22) announced the winners of the partner awards at a ceremony last night (Aug 21).
Dalibor Matanić's The High Sun (Zvizdan), which premiered at Cannes in Un Certain Regard (where it won the Jury Prize), received the CICAE Award from the jury comprising Kevin De Ridder and Silvia Bahl.
The Croatian drama comes from Zagreb-born writer-director Matanić, best known for his 2002 feature Fine Dead Girls, andis about forbidden love across national borders - a tale that starts just before the Balkan war in 1991 and travels through to 2011.
Young Croatian director Eva Kraljević won the European Documentary Network Talent Grant for her intimate 41-minute film I Like That Super Most The Best.
The film, shot over 10 years, follows the relationship of Kraljević and her sister, Mia, who has Down syndrome.
The jury - comprising Laurent Crouzeixis, Marina Kožul, and Tom Shoval - also selected Turkish director Emre Kayiş's Translator, about a Syrian refugee boy, as the Sarajevo Short Film Nominee for the European Film Awards 2015.
The Best Pack & Pitch Award from Talents Sarajevo went to Anda Puscas, who will received sound post-production services worth €4,000 provided by studio Chelia.
Ismet Kurtulus received an invitation to CineLink's Co-production Market.
The Association of Filmmakers of Bosnia and Herzegovina awarded the honorary "Ivica Matić" Award for contribution to Bosnian cinema to Sarajevo Film Festival director Mirsad Purivatra and Banja Luka-based producer Zoran Galić.
Student programme
In the B&H Student Programme, the best film award went to Julia Klier's Vejda: Enchanted World Of Fairies.
Jelena Ilić Todorović received the Special Jury Award for Imperative, while the Special Jury Mention went to Woyczek by Adi Selimović.
The jury comprised Adis Djapo, Mirna Dizdarević and Mladen Djukić.
Docu Rough Cut
On Thursday (Aug 20), the Docu Rough Cut Boutique awards were announced.
The big winner was Korida by Siniša Vidović, which received the Work in Progress Digital Cube Award worth €20,000 in post-production services, and the HBO Adria Award of €2,000.
Alexandru Belc received the CAT&Docs Award, worth €2,000, for Cinema, Mon Amour, and a further €2,000 from Croatian Radio Television.
The IDFA Award, consisting of a visit to International Documentary Film Festival Amsterdam where the winner will meet with film professionals to discuss the project that participated in Sarajevo, went to Georgia's Toma Chagelishvili for Little Berlin Wall.